Muffle Furnace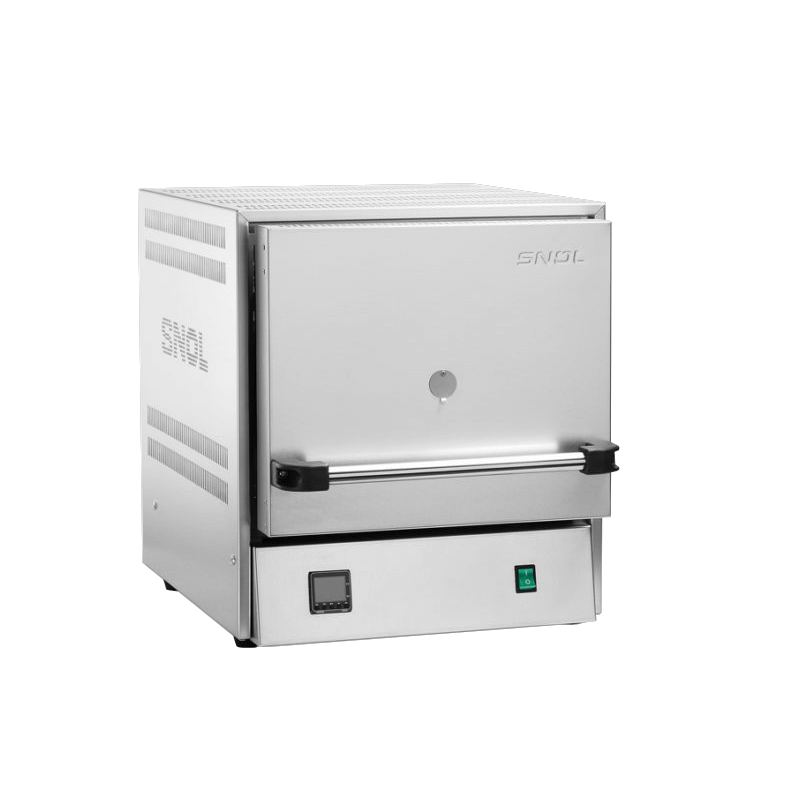 Code: L.803.xxx.xx
USAGE
For ash content determination of paper or pulp samples.
DEVICE DESCRIPTION
High accuracy electric muffle furnace is a universal laboratory furnace, firing up to 1100°C and designed for material testing and heat treatment such as hardening, loosening, normalizing ceramic and stoneware samples as well as ash content determination of pulp and similar products. To eliminate gases or smoke that are released during thermal processing, an exhaust system may be additionally installed in the product. The furnace is an excellent fit for scientific laboratories, educational institutions, ceramic studios, medicine and paper and pulp industry.
APPLICABLE STANDARDS
ISO 2144:1997
SPECIFICATIONS
One-piece high thermal efficiency vacuum-formed ceramic fiber chamber
Outside casing: stainless steel or metal sheet, powder painted grey
Heating elements are embedded in vacuum-formed fiber on four sides of the chamber
Door opens upwards
Door safety interlock switch
Control panel is placed in the underpart of the furnace
Non-programmable temperature controller – "Omron E5CC"
Ceramic bottom plates
Fast heating time due to low thermal mass construction
Low power consumption
Good stability and uniformity
CONNECTIONS
MODELS
| Code | Execution | Max. Temp | Volume | Dimensions chamber [mm] | Dimensions outer case [mm] | Net weight |
| --- | --- | --- | --- | --- | --- | --- |
| L.803.030 | grey* | 1100°C | 3 l | 120 x 200 x 105 | 345 x 470 x 430 | 17 kg |
| L.803.030.SS | stainless steel | 1100°C | 3 l | 120 x 200 x 105 | 345 x 470 x 430 | 17 kg |
| L.803.082 | grey* | 1100°C | 8.2 l | 195 x 310 x 135 | 445 x 660 x 495 | 25 kg |
| L.803.082.SS | stainless steel | 1100°C | 8.2 l | 195 x 310 x 135 | 445 x 660 x 495 | 25 kg |
| L.803.130 | grey* | 1100°C | 13 l | 220 x 335 x 170 | 505 x 685 x 555 | 36 kg |
| L.803.130.SS | stainless steel | 1100°C | 13 l | 220 x 335 x 170 | 505 x 685 x 555 | 36 kg |
| L.803.220 | grey* | 1100°C | 22 l | 280 x 500 x 160 | 605 x 855 x 620 | 59 kg |
| L.803.220.SS | stainless steel | 1100°C | 22 l | 280 x 500 x 160 | 605 x 855 x 620 | 59 kg |
| L.803.390 | grey* | 1100°C | 39 l | 320 x 495 x 230 | 655 x 890 x 740 | 75 kg |
| L.803.390.SS | stainless steel | 1100°C | 39 l | 320 x 495 x 230 | 655 x 890 x 740 | 75 kg |
OPTIONAL ADDITIONS
"Eurotherm 3216" (non-programmable temperature control)
"Eurotherm 3208" (programmable temperature control)
"Omron E5CC-T" (programmable temperature control)
PC connection and special designed software
OTP (over temperature protection, non-adjustable)
OTP (over temperature protection, adjustable
- "Eurotherm 3216i")
OTP (over temperature protection, adjustable - "Omron E5GC")
Buzzer
Timer (delayed furnace start)
Ventilation hole ceramic tube (in the back side Ø17mm)
Chimney
Gas injection system for Argon or Nitrogen (flowmeter, reducer and connections)
Gas box to operate with protective gases (up to 1150°C)
Window Ø35mm temp. up to 1100°C
PDF EN